Strong awareness has been made about the damage of single use plastics and a fast fashion lifestyle. However, there is one product used daily that has not had much conversation over sustainability: toilet paper. The average four person household in America uses over 100 pounds of toilet paper a year.
America's use of toilet paper, especially the particularly soft kind, is worsening climate change and having dramatic, irreversible effects on Canadian boreal forests, according to a new report by two major environmental groups, the Natural Resources Defense Council (NRDC) and Stand.earth.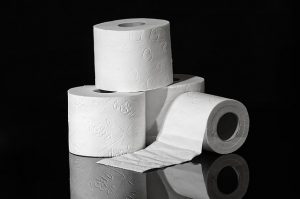 "Most Americans don't want to be complicit in flushing forests down the toilet. Tissue manufacturers should listen to their customers and create products made from recycled or responsibly sourced materials. We can't keep clearcutting living ecosystems like the Canadian boreal forest just to make toilet paper — we need to keep these vital ecosystems intact." -Tyson Miller, Forest Program Director at Stand.earth
The boreal forest covers nearly 60% of Canada. This forest alone absorbs an equivalent to the annual emissions of 24 million cars each year.
This truth about luxury toilet paper not only applies to Americans. The same principle applies to those in the UK who, on average, consume 110 toilet rolls a year – that is two and a half times higher than the EU average.
Are there any options out there to prevent this destruction? Well, in ancient Rome they would use a sponge on a stick left in a pot of vinegar to be used again. The central text of Jewish law, the Talmud, prescribes a handful of gravel.
Fortunately, we do not have to resort to such measures. Not all toilet paper is equally damaging and many manufacturers are making more environmentally friendly products by using recycled materials.
What kind of toilet paper do you use? Is it really worth it?
For any further comments or questions please feel free to e-mail lauren@greener-side.co.uk