Scotland's authorities recorded a recycle and compost rate of 45.6% for household waste in 2017 – figures published by the Scottish Environment Protection Agency on 26 March, 2019 have indicated. This is a slight increase over the 45% recorded in 2016 – but councils still fall short of the target level set by Scottish Government of 50%. By comparison, councils in England hit a 44.8% recycling rate for the same period.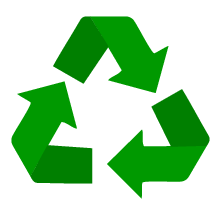 According to the data, Scottish households generated 2.46 million tonnes of waste in 2017, down from 38,153 tonnes (1.5% decrease) from 2016. Despite resulting in a fall in the volume of waste sent for recycling – down 2,800 tonnes to 1.12 million tonnes. This means that the total amount of waste recycled exceeded the amount landfilled (1.11 million tonnes) for the first time.
Letsrecycle have more information here
This is good news for Scotland and a step in the right direction. However, much more needs to be done before targets are met. Terry A'Hearn, SEPA's chief executive, stated: "The scale of the environmental challenge is enormous and we know that in Scotland we currently use the resources of three planets, but only have one."
For any further comments or questions please feel free to e-mail me.