A large majority of the country are working from home, most likely for the foreseeable future. In one way, this is fantastic as it reduces travelling miles for employees and therefore reduces pollution and other negative environmental impacts associated with travelling to work, but sustainability efforts shouldn't stop there.
Whilst many large businesses had their own sustainability projects within their offices which will now become obsolete, you can create your own initiative in your very own home. Let's look at some of the issues you may now face, and how to tackle them as an individual now responsible for your own working carbon footprint.
As an employee working from home, you now have to handle the costs of your lighting, heat, air-con and supplies. You'll also have to manage your own waste and recycling methods. All of these elements that were once your employer's responsibility, are now yours, but how can you face these issues alone?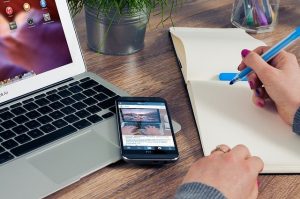 Choose the correct area for your workspace
While your office might have needed permanent artificial lighting due to the lack of windows, you shouldn't face the same issue while working from home. We recommend choosing an area of your home with the most natural light so that you can avoid any additional electricity bills. In the northern hemisphere, you're best working in a room on the south side of your house in order to get the most sunlight exposure throughout your working day.
Manage your energy usage
Most employees who work using a laptop will keep their device permanently charging while at the workplace, but this is a major change that you'll have to make while working from home – only charge it when it needs it! Another common habit of office workers is to leave their laptops or computers running overnight when they head home from work, if this is the case while you're at home you can expect to see your electricity bills rising, so make sure to shut down!
Buy sustainable furniture
You may think you'll need a new office or desk chair if this is your first time doing any type of work from home, but try to think twice about rushing straight to your nearest supermarket/knock-off store for a cheap chair! It's likely that you may have to go back into work at some point, resulting in your new environmentally unfriendly plastic chair being thrown away. Try using a chair that you already have within your home, or using something second hand – these types of chairs are often easy to find on things like Facebook marketplaces or eBay.
Here's some other simple, quick tips for working at home sustainably:
Use a whiteboard instead of sticky notes
Print double sided where possible
Use a reusable cup or glass instead of bottled water
Recycle everything possible
Composting organic waste
Contact us today or visit www.greener-side.co.uk to start recycling in the right way.